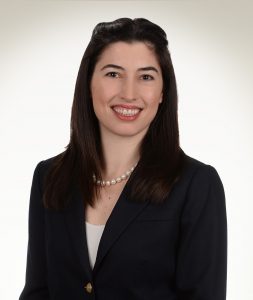 ayazici@yaziciao.com
Ayşe Yazıcı Adanır provides corporate and contract law advice for investments in different industries. In this context, her work focuses on coordinating preliminary discussions and due diligence procedures for mergers and acquisitions, drafting and negotiating share purchase, share subscription and shareholders' agreements and executing the transactions for both buyers and sellers.
Ayşe Yazıcı Adanır is also admitted to practice in New York, USA and advises her clients under both Turkish laws and U.S. laws.
Ayşe Yazıcı Adanır's other areas of practice include:
Structuring project finance and other financing, drafting and negotiating facility agreements and security agreement packages, and conducting the closing of these transactions, for both borrowers and lenders;
Advising on oil and gas exploration and production activities in various countries, including on production sharing agreements, joint operating agreements, farm-in agreements, drilling and field services agreements and production and processing facilities agreements;
Incorporating investment management companies and funds, advising on the legal aspects of investing in funds in Turkey and abroad, drafting and negotiating related founding documents and shareholders' agreements;
Advising Turkish investors on incorporating companies abroad and on company group restructurings for international operations;
Performing risk analysis of and negotiating agreements for the sale, financial leasing and operation of private aircraft; and
Representing clients in international arbitration proceedings mainly in construction-related disputes.
Education
Middle East Technical University (B.A. in International Relations, 2002)
George Mason University, School of Public Policy (M.A. in International Commerce and Policy, 2004)
Benjamin N. Cardozo School of Law, Yeshiva University (Juris Doctor, 2007)
Ankara University Faculty of Law (Law Equivalency Degree, 2011)
Career
Yazıcı Attorney Partnership (since 2009)
Koç University, MBA Program, Part-Time Instructor, Istanbul (2013-2015)
Mayer Brown LLP, New York (Associate, 2007-2009)
World Bank, Washington D.C. (Consultant, 2003-2004)
Memberships
Admitted to practice in New York
Istanbul Bar
American Bar Association
New York State Bar Association
Association of International Energy Negotiators (AIEN)
Languages
Turkish, English, French (intermediate)
We cannot provide more information on our lawyers' biographies via our website (Turkish Bar Association's Regulation on Prohibition of Advertisement, Official Gazette number 25296, November 21, 2003). Please do not hesitate to contact us for more specific information on their experience.