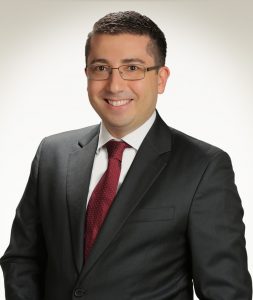 karic@yaziciao.com

Kerem Arıç advises his clients on applications to and negotiations and correspondence with the relevant administrative authorities for licensing for oil and natural gas exploration and production-related activities, and the structuring and negotiation of production sharing agreements, joint operating agreements, farm-in agreements, drilling and field services agreements, production and processing facilities agreements, transportation agreements, natural gas sale and import agreements and natural gas storage and pipeline projects.
Kerem Arıç also has a federal attorneyship license in Switzerland, and advises his clients under both Turkish laws and Swiss laws.
In addition to oil and gas law, Kerem Arıç also provides legal advice specifically on licensing, permitting, financing, construction and operation-related transactions in electricity, renewable energy, geothermal energy markets and mining.
Besides oil and gas and energy, Kerem Arıç is experienced on:
Coordinating preliminary discussions and due diligence procedures for mergers and acquisitions, drafting and negotiating share purchase agreements, share subscription agreements and shareholders' agreements for both the buyers' side and the sellers' side;
Advising on project finance-related procedures, conducting preliminary discussions and due diligence procedures, drafting and negotiating facility agreements and security agreements for both the borrowers' side and the lenders' side;
Preparing, executing and delivering training sessions on both Turkish and internationally applicable anti-bribery and corruption rules and procedures;
Advising Turkish investors on company incorporations abroad and company group restructurings for purposes of performing international operations;
Advising on the legal and financial restructuring of capital companies from the perspective of corporate law and tax law, drafting and negotiating restructuring documents;
Advising on and implementation of compliance programs in relation to personal data protection legislation.
Education
University of Geneva Law School (Law Degree, 2003)
University of Geneva Law School (Transnational Law Certificate, 2003)
Panthéon-Assas Paris II University (LL.M. in European Union Law, 2004)
Ankara University Faculty of Law (Law Degree Equivalency, 2010)
Career
Yazıcı Attorney Partnership (since 2008)
Baker & McKenzie, Geneva (2006 – 2007)
French Competition Authority (2005 – 2006)
Üye Olduğu Kuruluşlar
Ankara Bar Association
Swiss Chamber of Commerce in Turkey
French Chamber of Commerce in Turkey
Association of International Petroleum Negotiators
Languages
Turkish, English, French
We cannot provide more information on our lawyers' biographies via our website (Turkish Bar Association's Regulation on Prohibition of Advertisement, Official Gazette number 25296, November 21, 2003). Please do not hesitate to contact us for more specific information on their experience.